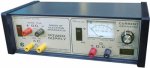 Enlarge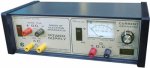 Enlarge
IEC Power Supply Mass of Electron
Order code: LB2622-001

| Purchase QTY: (Each) | 1+ | | | | |
| --- | --- | --- | --- | --- | --- |
| Base price | $440.00 | | | | |
| Scientrific's price | $429.00 | | | | |
Note: Prices do NOT include GST or freight
IEC MASS OF ELECTRON POWER SUPPLY
A special purpose power supply designed for use with the AP2120-001 IEC Mass of an Electron Apparatus. It is also a useful general purpose power supply when a preset constant current is required through a load up to a maximum of 2 amps and 25V DC.

For the Mass of an Electron experiment the left side of the front panel provides 250V DC at 1 milliamp for running the anode of the Magic Eye tube and 12V AC at 1 amp for running the heater of the tube.

The right side of the front panel has a 25V DC regulated current output up to 2 amps for running an Air Cored Solenoid to create the magnetic field that deflects the electron beam in the tube.

Includes thermal and electronic overload protection, spin free 4mm banana sockets and removable mains cable.
NOTE: This is a genuine IEC product
We believe in supporting Australian industry and only sell genuine IEC products, we do NOT sell imported clones of IEC products.
---
Dimensions
Product size: 325x110x180mm (WHD)
Weight: 4.6kg

Last edited 28th Sep 2021

This product is used in teaching these Australian Curriculum codes:

ACSPH108 - Gravity and electromagnetism - Electromagnetism - Magnets, magnetic materials, moving charges and current­carrying wires experience a force in a magnetic field; this force is utilised in DC electric motors

Click a curriculum code to see other products that relate.
&nbsp
Works with:
From
AP2120-001 - IEC Mass of Electron Apparatus

$137.00

PA2120-002 - IEC Mass of Electron Apparatus Magic Eye Tube

$59.80

EM0090-001 - IEC Air Cored Solenoid 700 Turns

$103.00

EM1230-001 - IEC Current Balance Kit Small

$61.00

&nbsp
Similar Products:
From
LB2634-001 - IEC Power Supply 2 to 12V AC/DC 5 Amp LED Overload

$148.00

LB2629-001 - IEC Power Supply 2 to 12V AC/DC Mini Pack

$145.00

LB2633-001 - IEC Power Supply 2 to 12V AC/DC

$175.00

LB2612-001 - IEC Power Supply 0 to 500V DC 50mA

$459.00

LB2631-001 - IEC Power Supply 2 to 12V AC/DC 10A

$241.00

LB2611-001 - IEC Power Supply Variable High Volt 0-300V DC

$439.00

LB2632-001 - IEC Power Supply 2 to 12V AC/DC 15 Amp

$361.00

LB2621-001 - IEC Power Supply 100/200V DC 6.3V AC

$142.00

LB2628-001 - IEC Power Supply DIGI PACK 2 to 12V plus 1 to 16V Regulated

$332.00

LB2618-001 - IEC Power Supply 30mA/30V DC

$220.00

LB2635-001 - IEC Power Supply Selectavolt 1.5/3/6V DC

$220.00

LB2643-001 - IEC Power Supply 1.5 to 20V DC 10A

$478.00
Note: Prices do NOT include GST or freight