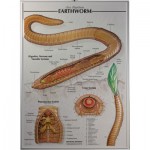 Enlarge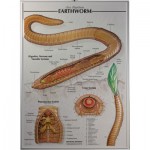 Enlarge
Earthworm Poster/Chart Raised Relief
Order code: 7503RR

EARTHWORM POSTER/CHART RAISED RELIEF
Depicting the anatomy of this common annelid through cutaway views, separate figures detail the reproductive and excretory systems. Also portrayed is a habit study.
Similar to the 7503-08 Earthworm poster/chart but is made as a raised relief image on plastic sheet which makes it more lifelike and ideal for reference in the science lab.

Size: Approximately 540 x 745mm.
Type: Image is a "Raised Relief" printed on plastic and has a mounting tab with a hole.
Last edited 31st Mar 2014

This product is used in teaching these Australian Curriculum codes:

ACSSU211 - Biological Sciences - Animal Survival - Living things live in different places where their needs are met

Click a curriculum code to see other products that relate.
&nbsp
Similar Products:
From
7133-NB - Anatomy of the Ear Poster/Chart - Small

$58.00

7133-08 - Anatomy of the Ear Poster/Chart

$28.00

7102-NB - Anatomy of the Eye Poster - 10 Notebook Sized

$58.00

7102-08 - Anatomy of the Eye Poster/Chart

$28.00

7140-NB - Anatomy of the Heart Poster/Chart - Small

$58.00

7802-08 - Electrotherapy Poster/Chart

$30.00

7801-08 - Hot and Cold Therapy Poster/Chart

$30.00

7505RR - Protists Poster/Chart Raised Relief

$34.00

7854-08 - Strengthening the Foot and Ankle Poster/Chart

$30.00

7852-08 - Strengthening the Hip and Knee Poster/Chart

$30.00

7851-08 - Strengthening the Shoulder Poster/Chart

$30.00

7853-08 - Strengthening the Wrist and Forearm Poster/Chart

$30.00
Note: Prices do NOT include GST or freight