IEC Weight Set of 9 Brass Slotted 50g
Order code: MF4300-001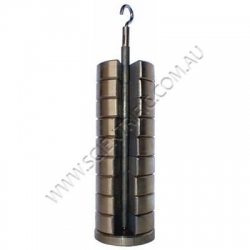 Enlarge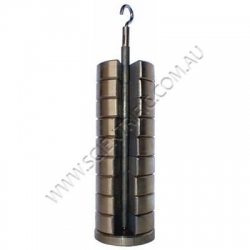 Enlarge
IEC 50g SLOTTED BRASS WEIGHT SET ON CARRIER

A set of nine 50g solid brass discs with a shaped slot to fit the 5mm diameter rod of a 50g brass carrier.

A strong hook is fitted permanently to the top of the carrier.

The set of nine 50g brass weights plus the 50g carrier total 500g.



All IEC weights and carriers are stamped with the weight and have an accuracy of 1%.



The individual slotted weights and carriers are available separately.
NOTE: This is a genuine IEC product
We believe in supporting Australian industry and only sell genuine IEC products, we do NOT sell imported clones of IEC products.
---
Dimensions
Product size: 30x125x30mm (WHD)
Weight: 500g

Works with:
MF4665-001
IEC Tensile Test Machine
from
$283.00 plus GST

Similar Products:
MF4300-002
IEC Weight Brass Slotted 50g
from
$4.90 plus GST
MF4300-005
IEC Weight Brass Slotted 25g
from
$3.90 plus GST
MF4300-006
IEC Weight Brass Slotted 20g
from
$3.20 plus GST
MF4301-001
IEC Weight Set of 9 Brass Slotted 100g
from
$70.00 plus GST
MF4301-002
IEC Weight Brass Slotted 100g
from
$6.50 plus GST
MF4302-002
IEC Weight Brass Slotted 5g
from
$2.45 plus GST
MF4303-001
IEC Weight Set of 9 Brass Slotted 10g
from
$36.50 plus GST
MF4303-002
IEC Weight Brass Slotted 10g
from
$3.10 plus GST
MF4304-001
IEC Weight Set of 5 Brass Slotted
from
$16.60 plus GST
MF4304-101
IEC Weight Set of 3 Brass Slotted
from
$8.70 plus GST
MF4330-004
IEC Weight Zinc Metric Circular 200g
from
$7.30 plus GST
MF4330-006
IEC Weight Zinc Metric Circular Hole for Tie
from
$4.50 plus GST
MF4330-007
IEC Weight Zinc Metric Circular 20g
from
$2.80 plus GST
MF4330-008
IEC Weight Zinc Metric Circular 10g
from
$2.30 plus GST
PA4300-003
IEC Weight Carrier Brass with Hook 50g
from
$21.50 plus GST
PA4301-003
IEC Weight Carrier Brass with Hook 100g
from
$25.00 plus GST
PA4303-003
IEC Weight Carrier Alloy with Hook 10g
from
$11.50 plus GST

Documents:
User Manual
IEC 50g Brass Weight Set