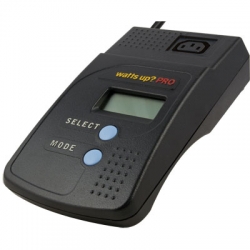 Enlarge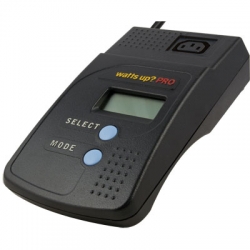 Enlarge
Vernier Watts Up Pro Power Monitor
Order code: WU-PRO-AU
Save 50% but very limited stock
Purchase QTY: (Each)
1+
Base price
$414.00
Scientrific's price
$414.00
Educational special
$207.00
Note: Prices do NOT include GST or freight
WATTS UP PRO INTERNATIONAL MODEL
Watts Up Pro is a device that measures real-time electricity usage and cost. It auto-IDs and connects to a USB port on your computer or LabQuest. Logger Pro 3.8 or LabQuest App 1.3 or newer are required.

When connected, Watts Up Pro can be used at the same time as a LabPro, LabQuest, or Go! Link to collect data about electricity use at the same time as data from other sensors, for example temperature or light sensors. Watts Up Pro can also be used without a computer by connecting to the USB port of a LabQuest.

What Types of Data Can I Collect with Watts Up Pro?

Watts Up Pro calculates a wide variety of data, including maximum watts, frequency and cumulative costs. Logger Pro collects the following types of data simultaneously:

* Real Power
The power currently being consumed by the device that is plugged into Watts Up Pro, measured in watts.
* Potential
The root mean squared (RMS) potential present on the power line.
* Current
The RMS current being drawn by the device that is plugged into Watts Up Pro, measured in amperes.
* Apparent Power
The products of the RMS potential and the RMS current.

In addition, an experiment file available in Logger Pro contains calculated columns that will allow you to explore cost. You can use this file to conduct more complex analysis of your data.
Educational use only:
Vernier and Kidwind products are designed for educational use. They are not appropriate for industrial, medical or commercial applications. Details
Last edited 17th Oct 2023
Note: Prices do NOT include GST or freight