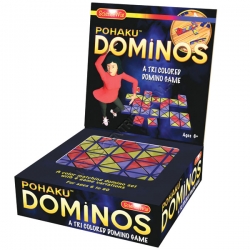 Pohaku Dominos opened box.


Enlarge
Enlarge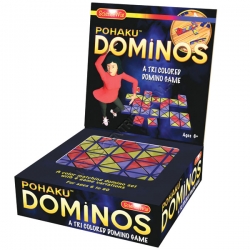 Pohaku Dominos opened box.


Enlarge
Enlarge
ScienceWiz Pohaku Dominos
Order code: SCW7852
| Purchase QTY: (Each) | 1+ | | | | |
| --- | --- | --- | --- | --- | --- |
| Base price | $22.20 | | | | |
| Scientrific's price | $20.00 | | | | |
Note: Prices do NOT include GST or freight
A three colour, four sided domino game with only one rule -- match the colours.

Four game variations keep play interesting for young and old alike. And also challenge those who find maths intriguing.

Pohaku™ Dominos can be played with pieces hidden as a game of chance - perfect for adults to play with young children.

Letting the other player see your pieces turns Pohaku™ Dominos into a game of skill.

Each set includes:
• 24 Pohaku™ dominos
• Sliding tray
• Game board
• Beautiful full colour 40 page booklet of illustrated games and puzzles.

Note: Prices do NOT include GST or freight