ACSPH137: Year 12 Revolutions in modern physics - Quantum theory
A wide range of phenomena, including black body radiation and the photoelectric effect, are explained using the concept of light quanta
Related documents
---
Scientrific can supply the following products used in performing the experiments in the above PDF/s:
This search is limited to Australian Curriculum codes only. Please click
here
to search the whole catalogue.
Displaying results page 1 of 1 |
3 results found.
---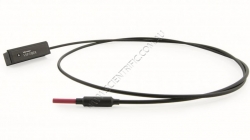 Vernier Spectrophotometer Optical Fiber
VERNIER SPECTROPHOTOMETER OPTICAL FIBER This is an optical fibre accessory designed exclusively for emission spectrum experiments with Vernier-branded spectrometers. Simply insert the unit into the cuvette holder and point the tip of the 1m optical fibre at a light source...
Order code: VSP-FIBER

---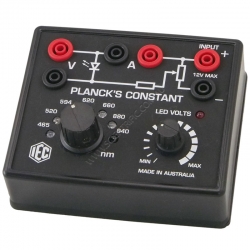 IEC Planck's Constant - Low Cost Apparatus
IEC PLANCK'S CONSTANT SIMPLE APPARATUS A low cost instrument used to determine Planck's Constant and discover that the wavelength of light determines the energy in the photons … not the amount of light. The voltage that causes 2 microamps to flow through each selected ...
Order code: AP2343-001

---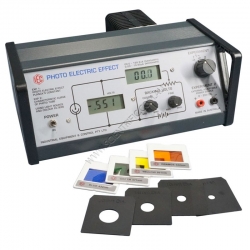 IEC Photo-Electric Effect - Planck's Constant Apparatus
IEC PHOTOELECTRIC EFFECT AND PLANK'S CONSTANT A well-designed instrument with two digital meters to simultaneously indicate both the current through the internal photo-cell and the backing voltage applied to the cell. Experiments can be performed in the following areas...
Order code: AP2341-002

Purchase QTY: (Each)
1+
Base price
$549.00
Scientrific's price
$536.00
Educational special
$495.00
CLICK FOR QTY PRICING
Prices exclude GST and freight
Displaying results page 1 of 1 |
3 results found.