IEC Van de Graaff Accessory - Vibrating Balls in Phial
Order code: PA4151-001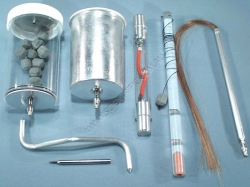 EM4144-001 IEC Van de Graaff Accessory Kit (Set of 7)


Enlarge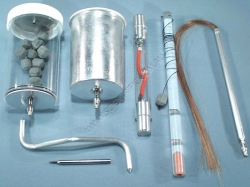 EM4144-001 IEC Van de Graaff Accessory Kit (Set of 7)


Enlarge
IEC VAN DE GRAAFF ACCESSORY - VIBRATING BALLS IN COLUMN

A clear insulated container with metal plates on top and bottom, containing 10 coated pith balls. When mounted on a charged Staticsphere or Van de Graaff generator the balls bounce crazily inside the container between the two plates.

A component of the EM4144-001 IEC Van De Graaff Accessory Kit.

NOTE: This is a genuine IEC product
We believe in supporting Australian industry and only sell genuine IEC products, we do NOT sell imported clones of IEC products.

Similar Products:
EM4144-001
IEC Van de Graaff Accessories Set of 7 Items
from
$145.00 plus GST
SC1002
Van de Graaff Accessory Kit
from
$129.00 plus GST
PA4145-001
IEC Van de Graaff Accessory - Hank of Hair on 4mm Plug
from
$19.60 plus GST
PA4146-001
IEC Van de Graaff Accessory - Neon Lamp
from
$27.50 plus GST
PA4147-001
IEC Van de Graaff Accessory - Faraday Pail
from
$20.70 plus GST
PA4148-001
IEC Van de Graaff Accessory - Plastic Rod with Conductive Coated Ball
from
$14.90 plus GST
PA4149-001
IEC Van de Graaff Accessory - Point Discharge Pin
from
$9.25 plus GST
PA4150-001
IEC Van de Graaff Accessory - Point Discharge Whirler
from
$16.20 plus GST
PA4137-010S
IEC Van de Graaff Silicon Belt for all small 200kV models
from
$27.00 plus GST
PA4138-010S
IEC Van de Graaff Silicon Belt for all large 400kV models
from
$27.00 plus GST
PA4140-020
IEC Van de Graaff Upgrade Kit
from
$97.80 plus GST
PA4134-004
IEC Van de Graaff Ball S/S Large 250mm D
from
$129.00 plus GST
PA4137-005
IEC Van de Graaff Ball Stainless Steel 200mm Diameter
from
$108.00 plus GST
PA4137-012
IEC Van de Graaff Belt Drive for Motor New Style
from
$3.70 plus GST
PA4137-015
IEC Van de Graaff Comb New PCB
from
$9.20 plus GST
PA4137-021
IEC Van de Graaff Pin New Upper Ball Magnetic Retain
from
$8.00 plus GST
PA4138-005
IEC Van de Graaff Ball Stainless Steel 280mm Diameter
from
$169.00 plus GST
PA4140-006
IEC Van de Graaff Ball & Handle Discharge 80mm Diameter
from
$74.00 plus GST
PA4140-009
IEC Van de Graaff Tube Acrylic Large 400kV
from
$51.80 plus GST
PA4140-012
IEC Van de Graaff Pulley Top Shaft/Bearings all Models
from
$36.40 plus GST
PA4140-013
IEC Van de Graaff Pulley Bottom all Models
from
$32.60 plus GST
PA4140-015
IEC Van de Graaff Comb Old PCB
from
$9.20 plus GST
PA4140-021
IEC Van de Graaff Pin Old Upper Ball with Nut & Washer
from
$11.50 plus GST
PA4142-010
IEC Van de Graaff Speed Control Rheostat 25W
from
$41.40 plus GST
PA4143-003
IEC Van de Graaff Speed Control Electronic
from
$50.60 plus GST
PA4143-005
IEC Van de Graaff Tube Acrylic Small 200kV
from
$49.50 plus GST
PA4143-007
IEC Van de Graaff Ball Stainless Steel Discharge 80mm Diameter
from
$38.00 plus GST

Documents:
User Manual
IEC Van de Graaff Accessory Kit