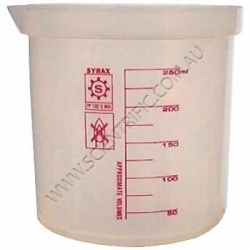 250ml Polypropylene Graduated Beaker


Enlarge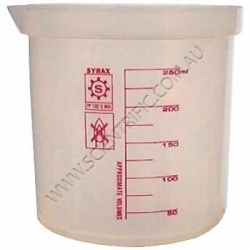 250ml Polypropylene Graduated Beaker


Enlarge
Beaker Polypropylene Graduated 250ml
Order code: SC7129

Polypropylene beaker, graduated. 250ml.
Last edited 14th May 2019

This product is used in teaching these Australian Curriculum codes:

ACSSU074 - Chemical Sciences - Materials - Natural and processed materials have a range of physical properties; These properties can influence their use
ACSSU043 - Biological Sciences - Adaptations - Living things have structural features and adaptations that help them to survive in their environment
ACSSU095 - Chemical Sciences - Chemical Changes - Changes to materials can be reversible, such as melting, freezing, evaporating; or irreversible, such as burning and rusting
ACSSU113 - Chemical Sciences - Separating Mixtures - Mixtures, including solutions, contain a combination of pure substances that can be separated using a range of techniques

Click a curriculum code to see other products that relate.
&nbsp
Similar products:
From
SC7101 - Beaker Borosilicate Glass Graduated 10ml

$2.00

SC7102 - Beaker Borosilicate Glass Graduated 25ml

$2.50

SC7103 - Beaker Borosilicate Glass Graduated 50ml

$2.80

SC7104 - Beaker Borosilicate Glass Graduated 100ml

$3.30

SC7105 - Beaker Borosilicate Glass Graduated 150ml

$3.80

SC7106 - Beaker Borosilicate Glass Graduated 250ml

$4.20

SC7107 - Beaker Borosilicate Glass Graduated 400ml

$4.60

SC7108 - Beaker Borosilicate Glass Graduated 500ml

$5.00

SC7109 - Beaker Borosilicate Glass Graduated 600ml

$5.30

SC7110 - Beaker Borosilicate Glass Graduated 800ml

$6.80

SC7111 - Beaker Borosilicate Glass Graduated 1000ml

$8.40

SC7112 - Beaker Borosilicate Glass Graduated 2000ml

$20.00

SC7113 - Beaker Borosilicate Glass Graduated 3000ml

$34.00

SC7114 - Beaker Borosilicate Glass Graduated 5000ml

$75.00
Note: Prices do NOT include GST or freight