Molymod Ice
Order code: MKO-123-26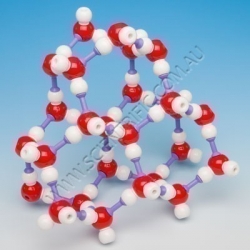 MKO-123-26.


Enlarge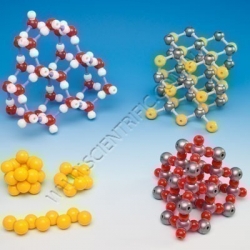 MKO-123, MKO-125, MKO-103 and MKO-137.


Enlarge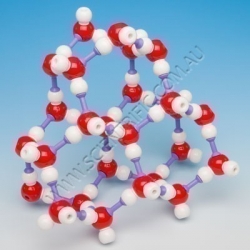 MKO-123-26.


Enlarge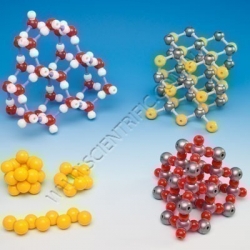 MKO-123, MKO-125, MKO-103 and MKO-137.


Enlarge
MOLYMOD ICE

Supplied in a 4 compartment box with illustrated instructions this kit contains sufficient oxygen and hydrogen atoms plus links to build a two layer, 26 water molecule model of ice.



Included are 26 red oxygen atoms, 52 white Hydrogen atoms, 26 grey medium links, 52 white short links, 40 purple medium links and a short link remover tool.



A quality, genuine Molymod® product fully compatible with all other genuine Molymod® products.

Similar Products:
MA-402-10
Molymod Oxygen Red 4 Holes 23mm Tetrahedral
from
$10.00 plus GST
MA-210-10
Molymod Hydrogen White 2 Holes 17mm Linear
from
$6.70 plus GST
MKO-100-30
Molymod Diamond - Standard Carbon Black
from
$27.20 plus GST
MKO-101-45
Molymod Graphite
from
$37.40 plus GST
MKO-102-60
Molymod Buckminster Fullerene C60
from
$43.40 plus GST
MKS-103-24
Molymod Sulphur Three S8 Rings
from
$20.60 plus GST
MKO-104-30
Molymod Carborundum
from
$27.20 plus GST
MKO-124-36
Molymod Sodium Chloride
from
$37.70 plus GST
MKO-127-27
Molymod Sodium Chloride Larger Chloride Ions
from
$37.70 plus GST
MKO-125-45
Molymod Zinc Blend Zinc Sulphide
from
$38.30 plus GST
MKO-126-66
Molymod Calcite Calcium Carbonate
from
$65.80 plus GST
MKO-133-30
Molymod Caesium Chloride 30 Atoms
from
$39.70 plus GST
ML-10-25
Molymod Short White Link for Compact Bonds
from
$3.90 plus GST
ML-11-25
Molymod Medium Purple Link
from
$5.10 plus GST
ML-12-25
Molymod Medium Grey Link
from
$5.10 plus GST