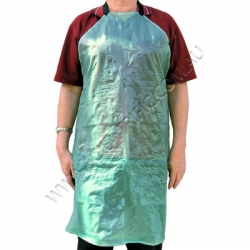 Enlarge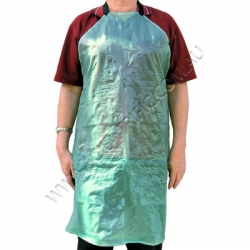 Enlarge
Lightweight Plastic Apron - Reusable Pack 10
Order code: SC92012

| Purchase QTY: (Pack of 10) | 1+ | | | | |
| --- | --- | --- | --- | --- | --- |
| Scientrific's price | $50.00 | | | | |
| Educational special | $25.00 | | | | |
Note: Prices do NOT include GST or freight
A lightweight, reusable green plastic apron with press-stud ties at the neck and waist. Overall size, excluding ties, is 88cm high by 78cm wide. All edges are hemmed. If the aprons are too long the material can be easily cut.

Sold as a pack of 10.
Last edited 23rd Apr 2018

This product is used in teaching these Australian Curriculum codes:

ACSSU077 - Chemical Sciences - Solids Liquids Gases - Solids, liquids and gases have different observable properties and behave in different ways
ACSSU095 - Chemical Sciences - Chemical Changes - Changes to materials can be reversible, such as melting, freezing, evaporating; or irreversible, such as burning and rusting
ACSSU113 - Chemical Sciences - Separating Mixtures - Mixtures, including solutions, contain a combination of pure substances that can be separated using a range of techniques

Click a curriculum code to see other products that relate.
&nbsp
Similar Products:
From
SC8701 - Laboratory Coat

$45.00
Note: Prices do NOT include GST or freight