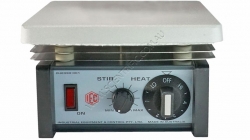 Enlarge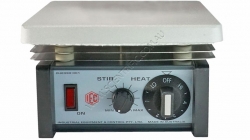 Enlarge
IEC Magnetic Stirrer Hot Plate Simmerstat Plain Top
Order code: CH2090-001

| Purchase QTY: (Each) | 1+ | 5+ | 10+ | | |
| --- | --- | --- | --- | --- | --- |
| Base price | $465.00 | $465.00 | $465.00 | | |
| Scientrific's price | $454.00 | $454.00 | $454.00 | | |
| Educational special | $419.00 | $405.00 | $391.00 | | |
Note: Prices do NOT include GST or freight
IEC MAGNETIC STIRRER AND SIMMERSTAT HOT PLATE WITH PLAIN TOP
This unit combines the features of IEC's CH2080-001 Magnetic Stirrer and CH1920-001 'Simmerstat' Hot Plate with high temperature plain alloy top plate for even plate temperature. Heating and stirring operate together but are independently controlled.

CH2091-001 IEC Magnetic Stirrer Hot Plate Simmerstat PTFE Top is the same model with the top plate Teflon coated.

Purchase Spin Bars separately.

The electronic speed control adjusts from 150 to 1200RPM approximately, to provide a slow minimum speed for titration work and excellent high speed for very strong mixing and stirring.
The high magnet strength stirs effectively up to the viscosity of glycerine.

The 'Simmerstat' temperature control provides heat adjustment from zero to full over a scale from 1 to 10 with a maximum plate temperature of approximately 450°C. The Simmerstat provides continuous adjustment of plate temperature but does not hold it to a specific set temperature. A simmerstat control is better suited for boiling water than thermostat models.

IEC Hot Plates are a reliable source of mains powered, controlled heat for the laboratory. The heating element is recessed and bonded into the underside of the alloy plate for total thermal efficiency. A ceramic board provides insulation and baffle plates ensure that the housing remains cool even after prolonged operation with temperatures up to 400°C. The compact housing provides good stability and controls are recessed for protection. The large top plate has a flat machined surface. The housing's durable corrosion resistant finish ensures a long life.
NOTE: This is a genuine IEC product
We believe in supporting Australian industry and only sell genuine IEC products, we do NOT sell imported clones of IEC products.
---
Dimensions
Product size: 180x125x200mm (WHD)
Weight: 3.3kg

Last edited 19th Oct 2021

This product is used in teaching these Australian Curriculum codes:

ACSSU049 - Physical Sciences - Heat - Heat can be produced in many ways and can move from one object to another
ACSSU182 - Physical Sciences - Energy Transfer - Energy transfer through different mediums can be explained using wave and particle models

Click a curriculum code to see other products that relate.
&nbsp
Accessories / Spare Parts:
From
CH4240-001 - IEC Water Bath only use with IEC Hot Plate

$225.00

CH4240-101 - IEC Water Bath Temperature Controller

$168.00

PA3802-005 - IEC Spin Bar 25mm PTFE

$7.60

PA3802-010 - IEC Spin Bar 40mm PTFE

$8.80

PA2090-005 - IEC Magnetic Stirrer Insulating Sheet Under Hot Plate

$10.40

PA2090-007 - IEC Magnetic Stir Hot Plate Speed Control only Electronic

$51.50

PA2090-008 - IEC Magnetic Stir Hot Plate Speed Control only Rheostat

$59.80

&nbsp
Similar Products:
From
CH1920-001 - IEC Hot Plate Simmerstat Plain Top 240V AC

$265.00

CH1921-001 - IEC Hot Plate Simmerstat PTFE Top 240V AC

$337.00

CH1922-001 - IEC Hot Plate Thermostat Plain Top 240V AC

$332.00

CH1923-001 - IEC Hot Plate Thermostat PTFE Top 240V AC

$415.00

CH2091-001 - IEC Magnetic Stirrer Hot Plate Simmerstat PTFE Top

$416.00

CH2092-001 - IEC Magnetic Stirrer Hot Plate Thermostat Plain Top

$450.00

CH2093-001 - IEC Magnetic Stirrer Hot Plate Thermostat PTFE Top

$474.00

CH2080-001 - IEC Magnetic Stirrer Variable Speed Epoxy Plate

$282.00

CH2081-001 - IEC Magnetic Stirrer Variable Speed PTFE Plate

$361.00
Note: Prices do NOT include GST or freight