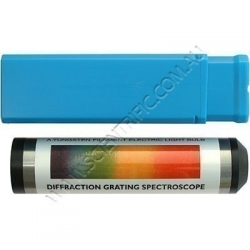 Enlarge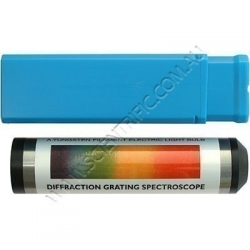 Enlarge
Student Spectroscope 25x115mm
Order code: SC3650
A high definition spectroscope from the UK that shows a VERY BRIGHT and CLEARLY DEFINED spectrum (without a wavelength reference scale) that helps teachers to show the visible spectrum simply and clearly. Of really solid construction with a tubular metal body. Uses include:
* FRAUNHOFFER LINES
* FLAME TEST IN CHEMICAL ANALYSIS
* ABSORPTION SPECTRA THROUGH LIQUIDS
* BRIGHT LINE SPECTRA FROM DISCHARGE TUBE
Features:
* Large diameter eyepiece ensures comfortable viewing of the SINGLE, LARGE and BRIGHT SPECTRUM.
* High quality optical components ensure that absorption bands, including weak bands that can be difficult to detect, are easily seen.
* The LINEAR SPECTRUM is generated by a particularly bright transmission diffraction grating of 600 lines/mm.
* The spectroscope uses fixed construction, so there is no need for adjustment.
* Robust assembly to withstand years of student handling.
* Convenient size, 115mm x 25mm.
* Supplied in a protective plastic case.
&nbsp
Similar Products:
From
SC13387 - Spectroscope Direct Vision

$30.00

CH3792-001 - IEC Spectrometer Flame Emission with new software

$1,565.00

HL3791-001 - IEC Spectroscope Plastic with Calibration Scale

$46.00
Note: Prices do NOT include GST or freight