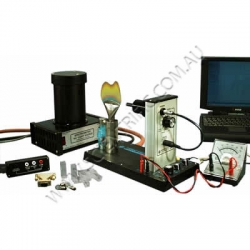 Enlarge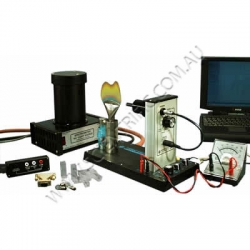 Enlarge
IEC Spectrometer Flame Emission with new software
Order code: CH3792-001

| Purchase QTY: (Each) | 1+ | | | | |
| --- | --- | --- | --- | --- | --- |
| Base price | $1,605.00 | | | | |
| Scientrific's price | $1,565.00 | | | | |
Note: Prices do NOT include GST or freight
IEC FLAME EMISSION SPECTROMETER
A unique student Spectrometer for teaching and demonstrating flame emission and atomic absorption (AA) spectometry and colorimetry in the classroom. Complete with an LP or natural gas burner, nebuliser with air controller, regulated light source, set of cuvettes, meter scaled in % transmission, ten calibrated filters selected by knob, computer interface with cables and Windows based software.

The unit can be used either with or without a computer. Faster graph plotting can be performed by using a PC to graph, log and save data but a PA3792-009 IEC bench meter is included so that light intensity measurements can be taken and graphs plotted manually.

Comprehensive instructions and experiments devised by Monash University are included.

A suitable light source for AA work is CH3792-125 IEC Sodium Lamp and Power Supply (purchase separately).

Very old similar models with MSDOS software can be updated.
NOTE: This is a genuine IEC product
We believe in supporting Australian industry and only sell genuine IEC products, we do NOT sell imported clones of IEC products.
---
Dimensions
Product size: 167x220x320mm (WHD)
Weight: 4.2kg

This product is used in teaching these Australian Curriculum codes:

ACSCH030 - Chemical fundamentals - Properties and structure of materials - Ions are atoms or groups of atoms that are electrically charged due to an imbalance in the number of electrons and protons; ions are represented by formulae which include the number of constituent atoms and the charge of the ion (for example, O2–, SO42–)
ACSCH032 - Chemical fundamentals - Properties and structure of materials - The characteristic properties of metals (for example, malleability, thermal conductivity, electrical conductivity) are explained by modelling metallic bonding as a regular arrangement of positive ions (cations) made stable by electrostatic forces of attra

Click a curriculum code to see other products that relate.
&nbsp
Works with:
From
CH3792-125 - IEC Sodium Lamp and Power Supply for Spectrometer and AA Experiments

$405.00

PA3792-005 - IEC Cuvettes Spectrometer and Colorimeter

$10.90

PA3792-009 - IEC Spectrometer Meter 0-5V.0-100%

$46.00

PA3792-010 - IEC Spectrometer Nebuliser for Atomisation

$13.80

PA3792-018 - IEC Spectrometer Optical Sensor Assembly

$202.00

&nbsp
Similar Products:
From
HL3791-001 - IEC Spectroscope Plastic with Calibration Scale

$46.00

HL3794-101 - IEC Spectral Lamp Mini Power Supply & Holder Combined without Lamp

$269.00

SC3650 - Student Spectroscope 25x115mm

$129.30

PA3792-050 - IEC Spectrometer Upgrade to Windows Kit & Software

$381.00
Note: Prices do NOT include GST or freight