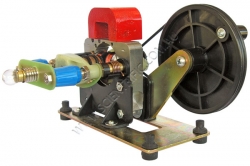 Enlarge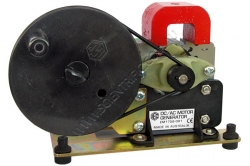 Enlarge
Enlarge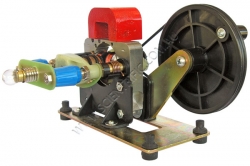 Enlarge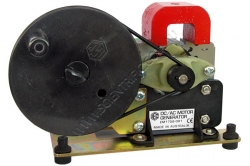 Enlarge
Enlarge
IEC Motor Generator Hand Cranked AC/DC
Order code: EM1758-001

| Purchase QTY: (Each) | 1+ | | | | |
| --- | --- | --- | --- | --- | --- |
| Base price | $140.00 | | | | |
| Scientrific's price | $137.00 | | | | |
Note: Prices do NOT include GST or freight
IEC HAND DRIVEN MOTOR/GENERATOR
A compact and strongly built DC Motor/Generator that can be hand wound by wheel and belt. The belt is easily removed when running as a DC Motor. Can run using a permanent 'U' shaped magnet or by fitting into the U core as part of the EM1973-001 Hodson Induction kit.

When used with the 'U'core, a coil can be used on the core to create the DC field. The field strength can then be altered to study the behaviour of the Motor or Generator.

Constructed for reliability and very long life with ball race bearings and a good quality commutator with robust sprung brushes. LEDs monitor the output voltage and indicate the polarity of the output. Motor runs well with good torque at about 6V.DC.
NOTE: This is a genuine IEC product
We believe in supporting Australian industry and only sell genuine IEC products, we do NOT sell imported clones of IEC products.
---
Dimensions
Weight: 500g

Last edited 15th Oct 2021

This product is used in teaching these Australian Curriculum codes:

ACSPH110 - Gravity and electromagnetism - Electromagnetism - A changing magnetic flux induces a potential difference; this process of electromagnetic induction is used in step­up and step­down transformers, DC and AC generators, and AC induction motors
ACSPH111 - Gravity and electromagnetism - Electromagnetism - Conservation of energy, expressed as Lenz's Law of electromagnetic induction, is used to determine the direction of induced current
ACSSU097 - Physical Sciences - Electrical Circuits - Electrical energy can be transferred and transformed in electrical circuits and can be generated from a range of sources
ACSSU155 - Physical Sciences - Energy Forms - Energy appears in different forms, including movement (kinetic energy), heat and potential energy, and energy transformations and transfers cause change within systems

Click a curriculum code to see other products that relate.
&nbsp
Works with:
From
EM1973-001 - IEC Induction Kit Hodson Transformer and Motor

$229.00

PA2099-001 - IEC Alnico Horseshoe Magnet

$25.30
Note: Prices do NOT include GST or freight