IEC Electricity Kit Capacitor 5uF Dual
Order code: PA1763-040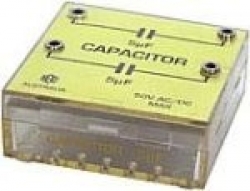 Enlarge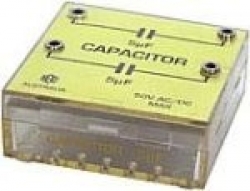 Enlarge
Capacitors from the Electricity Kit in a sturdy, clear plastic box with capacitor value and maximum permissible voltage clearly marked. The boxed capacitor(s) has the schematic symbol for a capacitor and 4mm banana sockets for easy connection.
NOTE: This is a genuine IEC product
We believe in supporting Australian industry and only sell genuine IEC products, we do NOT sell imported clones of IEC products.

Similar products:
PA1763-060
IEC Electricity Kit Holder for D Cell
from
$2.70 plus GST
PA1763-230
IEC Electricity Kit Resistor 100 ohm
from
$28.00 plus GST
PA1763-220
IEC Electricity Kit Resistor 50 ohm
from
$28.00 plus GST
PA1763-240
IEC Electricity Kit Resistor 500 ohm
from
$32.00 plus GST
PA1763-250
IEC Electricity Kit Switch 1 Way
from
$24.20 plus GST
PA1763-260
IEC Electricity Kit Switch 2 Way
from
$30.00 plus GST
PA2615-010
IEC Potentiometer Wire Wound 2.5K ohms
from
$40.30 plus GST
PA1763-050
IEC Electricity Kit Capacitor 10uF Single
from
$37.50 plus GST
PA1763-140
IEC Electricity Kit Lamp Holder - MES
from
$30.00 plus GST
EM2490-001
IEC Potentiometer Wire Wound 20 ohm
from
$39.00 plus GST
EM2490-003
IEC Potentiometer Wire Wound 50 ohm
from
$39.00 plus GST
EM2490-005
IEC Potentiometer Wire Wound 100 ohm
from
$39.00 plus GST
EM2490-010
IEC Potentiometer Wire Wound 1K ohm
from
$39.00 plus GST
EM2490-015
IEC Potentiometer Wire Wound 10K ohm
from
$39.00 plus GST
EM2490-018
IEC Potentiometer Carbon 25K ohm
from
$39.00 plus GST
EM2490-020
IEC Potentiometer Carbon 50K ohm
from
$39.00 plus GST
EM2490-025
IEC Potentiometer Carbon 100K ohm
from
$39.00 plus GST
EM2067-001
IEC Magnetic Field Demo Set of 3
from
$158.00 plus GST
EM2067-020
IEC Magnetic Field Demo Round Coil
from
$43.00 plus GST
EM2067-010
IEC Magnetic Field Demo Rectangular Coil
from
$43.00 plus GST
EM2067-030
IEC Magnetic Field Demo Spiral Coil
from
$49.50 plus GST