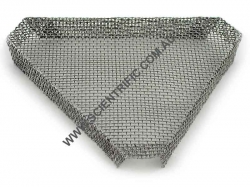 Note SC92002 contains 5 mesh mats.


Enlarge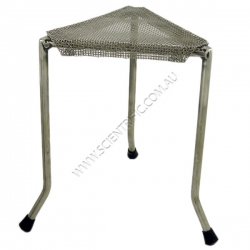 Mesh mat fitted to SC92000 tripod.


Enlarge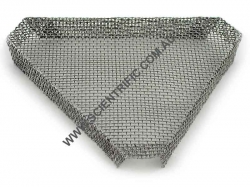 Note SC92002 contains 5 mesh mats.


Enlarge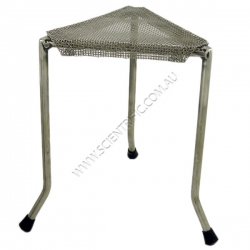 Mesh mat fitted to SC92000 tripod.


Enlarge
Stainless Steel Triangular Gauze/Mesh Mat Pack 5
Order code: SC92002

| Purchase QTY: (Pack of 5) | 1+ | 5+ | 10+ | | |
| --- | --- | --- | --- | --- | --- |
| Scientrific's price | $17.50 | $17.50 | $17.50 | | |
| Educational special | | $16.50 | $15.00 | | |
Note: Prices do NOT include GST or freight
STAINLESS STEEL TRIANGULAR GAUZE (MESH) MAT.
Our specification was for a super safe product that could not fall off our tripod or be easily caught on cuffs and the factory really delivered! Our gauze/mesh mat is not available elsewhere.

While made specifically to suit our SC92000 stainless steel tripod the mats will fit other tripods with sides up to 145mm long.

Features:
• The mesh size has been selected to minimise hot spots and maximise durability
• Stainless steel is a poor heat conductor making this mat safer than iron ones
• Suits tripods with up to 145mm long sides. Sold as a pack of 5
• Double folded safety edges to minimise the risk of sharp edges

Approximate sizes:
• 48 strands of wire per 100mm
• Wire thickness: 0.48mm
• 1.6mm inner gap between wires

Beware of a competitor who previously used our image on their website after cloning our product! You will not be getting the product you expect. We use a thick stainless steel mesh with a close spacing to minimise hotspots! The clone appears to be made of a very coarse mesh! Our product is also carefully sized to be a snug, safe fit on our tripods.
We will name and shame companies who steal our images apparently to insinuate their product is ours.
---
Dimensions
Product size: 150x15x150mm (WHD)

Last edited 4th Feb 2020

This product is used in teaching these Australian Curriculum codes:

ACSSU049 - Physical Sciences - Heat - Heat can be produced in many ways and can move from one object to another
ACSSU182 - Physical Sciences - Energy Transfer - Energy transfer through different mediums can be explained using wave and particle models

Click a curriculum code to see other products that relate.
&nbsp
Works with:
From
SC92000 - Tripod Stainless Steel Heavy Duty 200mm High

$9.00

&nbsp
Similar Products:
From
SC92004 - Stainless Steel Tripod WITH Triangular Gauze/Mesh Mat - Set of 5

$60.00

SC92002C - Stainless Steel Triangular COARSE Gauze/Mesh Mat Pack 5

$10.00

LW1617-01 - Bunsen Burner for Natural Gas

$16.50

LW1607-01 - Bunsen Burner for LP Gas

$16.50

SC7612 - Silicon Bunsen Burner Tubing

$5.40
Note: Prices do NOT include GST or freight