IEC Magnetic Field Demo Set of 3
Order code: EM2067-001

| Purchase QTY: (Each) | 1+ | | | | |
| --- | --- | --- | --- | --- | --- |
| Base price | $162.00 | | | | |
| Scientrific's price | $158.00 | | | | |
Note: Prices do NOT include GST or freight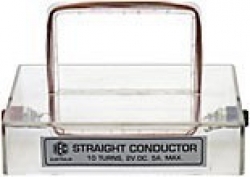 EM2067-010 Straight/Rectangular Coil


Enlarge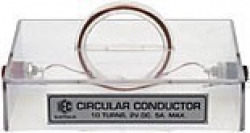 EM2067-020 Circular/Round Coil


Enlarge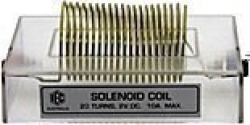 EM2067-030 Spiral/Solenoid Coil


Enlarge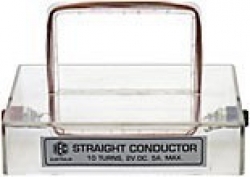 EM2067-010 Straight/Rectangular Coil


Enlarge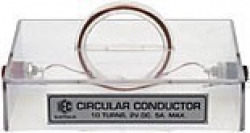 EM2067-020 Circular/Round Coil


Enlarge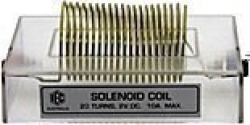 EM2067-030 Spiral/Solenoid Coil


Enlarge
IEC MAGNETIC FIELD DEMO SET OF 3

The IEC Magnetic Field Demonstrator Set consists of a small carry case containing three different shaped coils passing through transparent base plates to carry current so the field shape around each coil can be demonstrated.



By using plotting compasses on the base plates, the magnetic field formed around the coils can easily be seen and studied. Iron filings respond slightly but compasses are better.



Included:

• EM2067-010 straight/rectangular coil

• EM2067-020 circular/round coil

• EM2067-030 spiral/solenoid coil

• Shaker with fine iron filings

• Carry case



These Magnetic Field Demonstrators are the same as those found in the EM1763-001 IEC Electricity Kit.



NOTE: Labels are fitted to advise maximum currents to use to avoid overheating.
NOTE: This is a genuine IEC product
We believe in supporting Australian industry and only sell genuine IEC products, we do NOT sell imported clones of IEC products.
---
Dimensions
Product size: 130x115x290mm (WHD)
Weight: 900g

This product is used in teaching these Australian Curriculum codes:

ACSSU155 - Physical Sciences - Energy Forms - Energy appears in different forms, including movement (kinetic energy), heat and potential energy, and energy transformations and transfers cause change within systems
ACSSU182 - Physical Sciences - Energy Transfer - Energy transfer through different mediums can be explained using wave and particle models

Click a curriculum code to see other products that relate.

Works with:
EM1763-001
IEC Electricity Kit AC/DC Theory Standard Kit
from
$1,043.00 plus GST

Similar Products:
PA1763-220
IEC Electricity Kit Resistor 50 ohm
from
$28.00 plus GST
PA1763-230
IEC Electricity Kit Resistor 100 ohm
from
$28.00 plus GST
PA1763-240
IEC Electricity Kit Resistor 500 ohm
from
$32.00 plus GST
PA1763-040
IEC Electricity Kit Capacitor 5uF Dual
from
$37.50 plus GST
PA1763-050
IEC Electricity Kit Capacitor 10uF Single
from
$37.50 plus GST
PA1763-250
IEC Electricity Kit Switch 1 Way
from
$24.20 plus GST
PA1763-260
IEC Electricity Kit Switch 2 Way
from
$30.00 plus GST
PA1763-140
IEC Electricity Kit Lamp Holder - MES
from
$30.00 plus GST
EM2490-001
IEC Potentiometer Wire Wound 20 ohm
from
$39.00 plus GST
EM2490-003
IEC Potentiometer Wire Wound 50 ohm
from
$39.00 plus GST
EM2490-005
IEC Potentiometer Wire Wound 100 ohm
from
$39.00 plus GST
EM2490-010
IEC Potentiometer Wire Wound 1K ohm
from
$39.00 plus GST
EM2490-015
IEC Potentiometer Wire Wound 10K ohm
from
$39.00 plus GST
EM2490-018
IEC Potentiometer Carbon 25K ohm
from
$39.00 plus GST
EM2490-020
IEC Potentiometer Carbon 50K ohm
from
$39.00 plus GST
EM2490-025
IEC Potentiometer Carbon 100K ohm
from
$39.00 plus GST
PA2615-010
IEC Potentiometer Wire Wound 2.5K ohms
from
$40.30 plus GST
EM2067-020
IEC Magnetic Field Demo Round Coil
from
$43.00 plus GST
EM2067-010
IEC Magnetic Field Demo Rectangular Coil
from
$43.00 plus GST
EM2067-030
IEC Magnetic Field Demo Spiral Coil
from
$49.50 plus GST

Documents:
User Manual
IEC Magnetic Field Demo Set 3