IEC Potentiometer Carbon 25K ohm
Order code: EM2490-018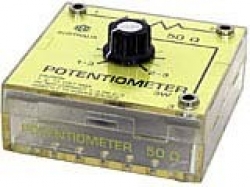 Similar 50 ohm Potentiometer EM2490-003


Enlarge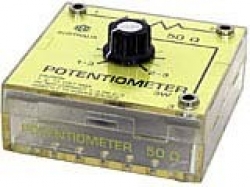 Similar 50 ohm Potentiometer EM2490-003


Enlarge

IEC POTENTIOMETER CARBON 25K OHM
The small radio type rotary IEC Potentiometer or Rheostat is a general purpose device for electrical or electronic experiments. It is mounted in a strong transparent container as used in the excellent EM1763-001 IEC Electricity Kit, with 4mm sockets for connection.

IEC Potentiometers are either wire wound or carbon track depending on the resistance value.
Low value resistance potentiometers are wire-wound and can dissipate about 3 watts.
Values can be 20, 50, 100, 1000 or 10,000 ohms.

Higher resistance values are carbon track potentiometers and can dissipate about 0.5 watts.
Values can be 25,000, 50,000 or 100,000 ohms.

It is normal for the higher value resistance devices to carry a much lower current than the low resistance devices because the high resistance naturally limits the current to a small value.

Last edited 17th Sep 2020

NOTE: This is a genuine IEC product
We believe in supporting Australian industry and only sell genuine IEC products, we do NOT sell imported clones of IEC products.
---
Dimensions
Product size: 75x75x42mm (WHD)
Weight: 80g

Works with:
EM1763-001
IEC Electricity Kit AC/DC Theory Standard Kit
from
$1,043.00 plus GST
EM1763-010
IEC Electricity Kit Advanced
from
$1,351.00 plus GST
EM1763-020
IEC Electricity Kit Advanced
from
$1,229.00 plus GST

Similar Products:
EM2490-001
IEC Potentiometer Wire Wound 20 ohm
from
$39.00 plus GST
EM2490-003
IEC Potentiometer Wire Wound 50 ohm
from
$39.00 plus GST
EM2490-005
IEC Potentiometer Wire Wound 100 ohm
from
$39.00 plus GST
EM2490-010
IEC Potentiometer Wire Wound 1K ohm
from
$39.00 plus GST
EM2490-015
IEC Potentiometer Wire Wound 10K ohm
from
$39.00 plus GST
EM2490-020
IEC Potentiometer Carbon 50K ohm
from
$39.00 plus GST
EM2490-025
IEC Potentiometer Carbon 100K ohm
from
$39.00 plus GST
EM2450-001
IEC Potentiometer Slide Wire Aluminium Base
from
$126.00 plus GST
EM2451-001
IEC Potentiometer Slide Wire Aluminium Base
from
$99.45 plus GST
EM2067-001
IEC Magnetic Field Demo Set of 3
from
$158.00 plus GST
PA1763-210
IEC Electricity Kit Potentiometer W/W 50 Ohms
from
$49.00 plus GST
PA1763-040
IEC Electricity Kit Capacitor 5uF Dual
from
$37.50 plus GST
PA1763-230
IEC Electricity Kit Resistor 100 ohm
from
$28.00 plus GST
PA1763-250
IEC Electricity Kit Switch 1 Way
from
$24.20 plus GST
EM3080-001
IEC Rheostat Rotary Wire Wound 100W 5ohm 4.5A
from
$113.00 plus GST
EM3081-001
IEC Rheostat Rotary Wire Wound 100W 50ohm 1.5A
from
$113.00 plus GST

Documents:
User Manual
IEC Rotary Potentiometers