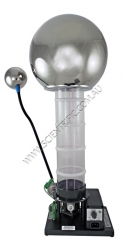 Enlarge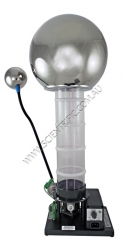 Enlarge
IEC Van de Graaff Generator 400kV Variable Speed
Order code: EM4134-101

| Purchase QTY: (Each) | 1+ | 5+ | 10+ | | |
| --- | --- | --- | --- | --- | --- |
| Base price | $555.00 | $555.00 | $555.00 | | |
| Scientrific's price | $542.00 | $542.00 | $542.00 | | |
| Educational special | $500.00 | $483.00 | $467.00 | | |
Note: Prices do NOT include GST or freight
IEC VAN DE GRAAFF GENERATOR LARGE 250mmD 400kV
IEC's standard large model Van De Graaff generator is a modern, compact and robust instrument that is specially designed for use in the classroom with all parts fully exposed.

An insulation tube protects the belt but the pulleys, belt and combs are accessible for inspection, cleaning or adjustment at both the top and bottom ends of the tube. The belt is of long lasting seamless silicone rubber and both performance and reliability is excellent.

The whole instrument can easily be dismantled down to the components to reduce size for transport.

Features:
• PA4138-010S spare belt is extremely easy to change
• Almost indestructible mirror finished 250mm diameter stainless steel dome
• Speed control
• All replacement parts are readily available
• EM4144-001 IEC Van de Graaff Accessory Kit is a set of 7 different useful attachments to fit to the top of the main dome

Specifications
• Output: 400kV under good conditions
• Spark gap: approximately 15cm
• Discharge ball: 80mmD with insulated handle and earth terminal connection
• Charging Belt: 55mm wide seamless silicone rubber
• Drive belt: from a speed controlled DC electric motor

NOTE: IEC no longer makes the smaller model with the 200mm diameter ball.
NOTE: This is a genuine IEC product
We believe in supporting Australian industry and only sell genuine IEC products, we do NOT sell imported clones of IEC products.
---
Dimensions
Weight: 3.4kg

Last edited 19th Oct 2021

This product is used in teaching these Australian Curriculum codes:

ACSPH102 - Gravity and electromagnetism - Electromagnetism - Electrostatically charged objects exert a force upon one another; the magnitude of this force can be calculated using Coulomb's Law

Click a curriculum code to see other products that relate.
&nbsp
Accessories / Spare Parts:
From
EM4144-001 - IEC Van de Graaff Accessories Set of 7 Items

$150.00

SC1002 - Van de Graaff Accessory Kit

$129.00

PA4145-001 - IEC Van de Graaff Accessory - Hank of Hair on 4mm Plug

$28.40

PA4146-001 - IEC Van de Graaff Accessory - Neon Lamp

$38.30

PA4147-001 - IEC Van de Graaff Accessory - Faraday Pail

$20.70

PA4148-001 - IEC Van de Graaff Accessory - Plastic Rod with Conductive Coated Ball

$21.20

PA4149-001 - IEC Van de Graaff Accessory - Point Discharge Pin

$9.25

PA4150-001 - IEC Van de Graaff Accessory - Point Discharge Whirler

$16.20

PA4151-001 - IEC Van de Graaff Accessory - Vibrating Balls in Phial

$41.70

PA4138-010S - IEC Van de Graaff Silicon Belt for all large 400kV models

$27.00

PA4134-004 - IEC Van de Graaff Ball S/S Large 250mm D

$129.00

PA4143-007 - IEC Van de Graaff Ball Stainless Steel Discharge 80mm Diameter

$38.00

PA4140-006 - IEC Van de Graaff Ball & Handle Discharge 80mm Diameter

$74.00

&nbsp
Similar Products:
From
PA4137-010S - IEC Van de Graaff Silicon Belt for all small 200kV models

$27.00

PA4140-020 - IEC Van de Graaff Upgrade Kit

$97.80

PA4137-005 - IEC Van de Graaff Ball Stainless Steel 200mm Diameter

$108.00

PA4137-012 - IEC Van de Graaff Belt Drive for Motor New Style

$3.70

PA4137-015 - IEC Van de Graaff Comb New PCB

$9.20

PA4137-021 - IEC Van de Graaff Pin New Upper Ball Magnetic Retain

$8.00

PA4138-005 - IEC Van de Graaff Ball Stainless Steel 280mm Diameter

$169.00

PA4140-009 - IEC Van de Graaff Tube Acrylic Large 400kV

$51.80

PA4140-012 - IEC Van de Graaff Pulley Top Shaft/Bearings all Models

$36.40

PA4140-013 - IEC Van de Graaff Pulley Bottom all Models

$32.60

PA4140-015 - IEC Van de Graaff Comb Old PCB

$9.20

PA4140-021 - IEC Van de Graaff Pin Old Upper Ball with Nut & Washer

$11.50

PA4142-010 - IEC Van de Graaff Speed Control Rheostat 25W

$41.40

PA4143-003 - IEC Van de Graaff Speed Control Electronic

$50.60

PA4143-005 - IEC Van de Graaff Tube Acrylic Small 200kV

$49.50
Note: Prices do NOT include GST or freight