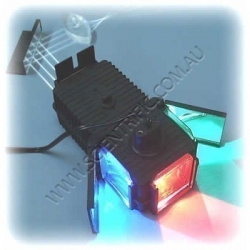 Hodson Light Box, plane mirror, bi-convex lens, some colour filters and slit former. Not all of the kit contents are pictured.


Enlarge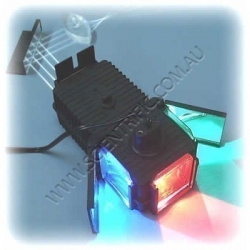 Hodson Light Box, plane mirror, bi-convex lens, some colour filters and slit former. Not all of the kit contents are pictured.


Enlarge
IEC Hodson Light Box and Optical Set
Order code: HL2060-001

| Purchase QTY: (Each) | 1+ | 5+ | 10+ | | |
| --- | --- | --- | --- | --- | --- |
| Base price | $119.00 | $119.00 | $119.00 | | |
| Scientrific's price | $117.00 | $117.00 | $117.00 | | |
| Educational special | $108.00 | $104.00 | $100.00 | | |
Note: Prices do NOT include GST or freight
IEC HODSON LIGHT BOX AND OPTICAL SET
The IEC 'Hodson' Light Box and Optical Set is a comprehensive kit of parts to explore experiments in basic optics and colour blending. It has been copied in many countries around the world, but the original is still the best quality and the best value for money.

Robustly designed to take the rough handling of students, the lens adjuster cannot be removed by students and the mirrors are efficient and virtually unbreakable. The colour filters and plates are heat resistant.

The unique lamp socket holds a 12Vx30W QI lamp with 4mm sockets for a second light box to be connected, enabling one IEC power supply to drive two light boxes. The cables include moulded, stackable banana plugs.

Packed in a tiered polystyrene box to keep all lenses, prisms and slabs clean, protected and easily accessible.
All parts are available separately.

Included:
• Light Box with adjustable collimating lens for the production of parallel beams and rays together with two swinging mirrors for colour blending.
• Set of 3 double ended slit formers to form rays through single, double, triple and 4 slits. Plus a wide slit for creating spectra and a blank to shut off the light.
• Set of 8 moulded plastic colour filters: Red, Green, Blue, Yellow, Orange, Cyan, Magenta and Violet
• Set of 8 non-transparent colour plates: Red, Green, Blue, Yellow, Orange, Cyan, Magenta and Violet
• Half round mirror
• Parabolic mirror
• Plane mirror
• 45°x45°x90° acrylic prism
• 60°x60°x60° acrylic prism
• 60°x30°x90° acrylic prism
• Rectangular acrylic slab lens
• Half round acrylic slab lens
• 37.5mm acrylic bi-convex lens
• 78mm acrylic bi-convex lens
• 78mm acrylic bi-concave lens
• Spare 12V 30W Quartz Halogen light bulb
• Polystyrene storage pack
• Experiment manual

Recommended power supply: For best results, a power source of 12 Volts at about 3 Amps (either AC or DC) is required to run the IEC Hodson Light Box. Either an adjustable power supply or a simple transformer can be used.
NOTE: This is a genuine IEC product
We believe in supporting Australian industry and only sell genuine IEC products, we do NOT sell imported clones of IEC products.
Last edited 15th Dec 2021

This product is used in teaching these Australian Curriculum codes:

ACSSU020 - Physical Sciences - Light and Sound - Light and sound are produced by a range of sources and can be sensed
ACSPH076 - Linear Motion and Waves - Waves - A wave model explains a wide range of light­related phenomena including reflection, refraction, total internal reflection, dispersion, diffraction and interference; a transverse wave model is required to explain polarisation
ACSSU080 - Physical Sciences - Light and Sound - Light from a source forms shadows and can be absorbed, reflected and refracted

Click a curriculum code to see other products that relate.
&nbsp
Works with:
From
LB2634-001 - IEC Power Supply 2 to 12V AC/DC 5 Amp LED Overload

$148.00

LB2633-001 - IEC Power Supply 2 to 12V AC/DC

$175.00

LB4090-001 - IEC Transformer 240/12V 12A 3 Outputs

$186.00

PA2043-002 - IEC Light Box Lamp Q/I 12V 30W

$2.80

PA2060-011 - IEC Light Box Parabolic Mirror

$5.80

PA2060-012 - IEC Light Box Half Round Mirror

$5.80

PA2060-015 - IEC Light Box Experiment Manual

$6.60

PA2060-017 - IEC Light Box Hinged Mirror

$4.30

PA2060-018 - IEC Light Box Plane Mirror Foot Mounted

$5.20

PA2060-019 - IEC Light Box Foam Housing 3 Parts

$11.80

PA2060-022 - IEC Light Box Knob and Screw for Collimating Lens (Old)

$3.25

PA2060-023A - IEC Light Box Collimating Lens In Holder (New)

$18.40

PA2060-024 - IEC U-Shaped Keeper for Hodson Light Box Lamp Holder

$0.60

PA2060-025 - IEC Light Box Lower Half Kit

$86.00

PA2060-026 - IEC Light Box Upper Half Kit

$57.50

PA2060-040 - IEC Light Box Lens Bi-Concave 7.5cm Focal Length

$6.60

PA2060-041 - IEC Light Box Lens Bi-Convex 3.75cm Focal Length

$7.90

PA2060-042 - IEC Light Box Lens Bi-Convex 7.5cm Focal Length

$6.60

PA2060-043 - IEC Light Box Prism 45x45x90 degrees

$9.80

PA2060-044 - IEC Light Box Prism 60x30x90 degrees

$9.80

PA2060-045 - IEC Light Box Prism 60x60x60 degrees

$9.80

&nbsp
Similar Products:
From
HL2060-020 - IEC Light Box Collimating Lens and Slit Formers

$55.00

HL2061-001 - IEC Light Box and Optical Set Hodson with Transformer

$199.00
Note: Prices do NOT include GST or freight