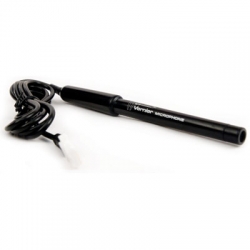 Enlarge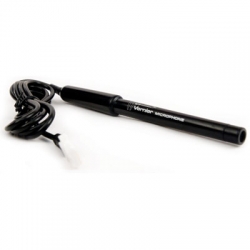 Enlarge
Vernier Microphone
Order code: MCA-BTA

VERNIER MICROPHONE
Use the Vernier microphone to display and study the waveforms of sounds from voices and musical instruments. It is also appropriate for speed of sound experiments.

Activities with sound waves:
• Demonstrate how the wave pattern changes when frequency and amplitude are changed
• Compare the waveforms from various musical instruments
• Have students capture the waveform of the sound of a tuning fork and model the sine wave using a function
• Measure the speed of sound by using reflected sound waves in a tube
• Demonstrate beat patterns
• Determine the period and then the frequency of a sound by measuring the time between peaks on the waveform
• Display the fast Fourier transform (FFT) of a sound






Specifications:
• Frequency range: approximately 100Hz to 15kHz
• Power: 1.45mA @ 5VDC
• Stored calibration:
slope: 1
intercept: 0 (arbitrary units)
Note: The maximum data-collection rate of the interface affects the maximum frequency you can effectively sample.
Educational use only:
Vernier and Kidwind products are designed for educational use. They are not appropriate for industrial, medical or commercial applications. Details
---
Warranty
Warranty: 5 years

---

Dimensions

Package size (HxWxD): 19 x 159 x 254mm
Packed weight: 70g

Last edited 19th May 2022

This product is used in teaching these Australian Curriculum codes:

ACSSU020 - Physical Sciences - Light and Sound - Light and sound are produced by a range of sources and can be sensed
ACSPH069 - Linear Motion and Waves - Waves - Waves may be represented by time and displacement wave diagrams and described in terms of relationships between measurable quantities, including period, amplitude, wavelength, frequency and velocity
ACSSU080 - Physical Sciences - Light and Sound - Light from a source forms shadows and can be absorbed, reflected and refracted
ACSSU182 - Physical Sciences - Energy Transfer - Energy transfer through different mediums can be explained using wave and particle models

Click a curriculum code to see other products that relate.
&nbsp
Similar Products:
From
GDX-SND - Vernier Go Direct Sound Sensor

$221.00

MG-BTA - Vernier Magnetic Field Sensor

$154.00

SLS-BTA - Vernier Sound Level Sensor

$154.00
Note: Prices do NOT include GST or freight