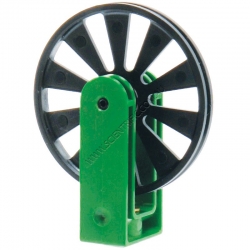 Enlarge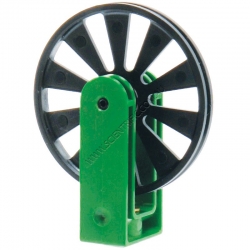 Enlarge
Vernier Ultra Pulley
Order code: SPA

VERNIER ULTRA PULLEY
Add a Vernier Ultra Pulley to your Vernier Photogate or Vernier Go Direct Photogate to monitor motion as a string passes over the pulley or as the pulley rolls along a table.

You can also connect the Vernier Ultra Pulley to Vernier's Track with the Vernier Pulley Bracket.
Educational use only:
Vernier and Kidwind products are designed for educational use. They are not appropriate for industrial, medical or commercial applications. Details
---
Warranty
Warranty: 5 year limited warranty

---

Dimensions

Package size (HxWxD): 32 x 102 x 102mm
Packed weight: 50g

Last edited 19th May 2022

This product is used in teaching these Australian Curriculum codes:

ACSPH064 - Linear Motion and Waves - Linear motion and force - Momentum is a property of moving objects; it is conserved in a closed system and may be transferred from one object to another when a force acts over a time interval

Click a curriculum code to see other products that relate.
&nbsp
Works with:
From
TRACK - Vernier Combination 1.2m Track/Optics Bench

$323.00

TRACK-LONG - Vernier Combination 2.2m Track/Optics Bench

$554.00

DTS - Vernier Dynamics Cart and Track System

$723.00

GDX-VPG - Vernier Go Direct Photogate

$221.00

DTS-GDX - Vernier Go Direct Dynamics System

$1,382.00

DTS-GDX-LONG - Vernier Go Direct Dynamics System Long

$1,624.00

VPG-BTD - Vernier Photogate

$122.00

PF - Vernier Picket Fence

$20.00

B-SPA - Vernier Pulley Bracket

$27.00

DTS-EC - Vernier Dynamics Cart and Track System with Motion Encoder

$1,080.00

DTS-EC-LONG - Vernier Dynamics Track System Encoder Long

$1,311.00
Note: Prices do NOT include GST or freight