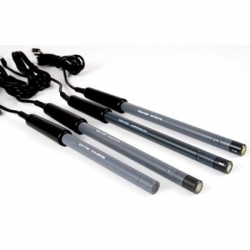 Ammonia, Calcium, Chloride and Nitrate Ion-Selective Electrodes


Enlarge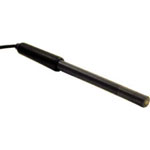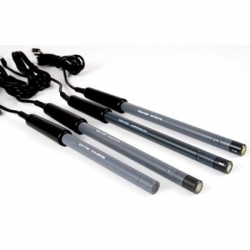 Ammonia, Calcium, Chloride and Nitrate Ion-Selective Electrodes


Enlarge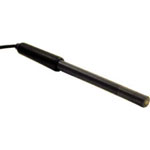 Vernier Nitrate Ion-Selective Electrode
Order code: NO3-BTA

VERNIER NITRATE ION-SELECTIVE ELECTRODE
Vernier's Nitrate Ion-Selective Electrode (ISE) can be used to measure the concentration of Nitrate (NO3-) in aqueous samples.

Nitrate concentration, which can be increased by acidic rainfall, fertilizer runoff from fields and plant or animal decay or waste, is an important parameter in nearly all water quality studies. Use the Vernier Nitrate ISE to determine the concentration of the nitrate ion in a water sample.

The Vernier Nitrate ISE has a combination-style, non-refillable, gel-filled electrode. Like all other PVC ISE membranes, the membrane on the ISE has a limited life expectancy. However, the replaceable module of ISE allows you to simply discard the used membrane module and replace it with a new one.

As this product has a finite shelf life we import it as required, allow 4 to 6 weeks for delivery from the date of your order.

Important: Ion-Selective Electrodes require good chemical technique and careful calibration to obtain accurate results; they are not recommended for junior high school students.

Specifications:
• Range: 1 to 10,000mg/L or ppm
• Accuracy: ±10% of full scale (calibrated 1 to 100mg/L)
• pH range: 2.5 to 11
• Interfering ions: CIO4–, I–, ClO3–, CN–, BF4–
• Electrode slope (log voltage vs. concentration): –56mV/decade
• Electrode resistance: 1 to 4MΩ
• Temperature range (can be placed in): 0 to 50°C (no temperature compensation)
• Minimum immersion: 28mm
• Electrode length: 155mm
• Body diameter: 12mm
• Cap diameter: 16mm
• Cable length: 1m

Compatibility Requirements:
The Vernier Nitrate Ion-Selective Electrode may require a compatible interface and software.
Educational use only:
Vernier and Kidwind products are designed for educational use. They are not appropriate for industrial, medical or commercial applications. Details
---
Warranty
Warranty: 5 years (1 year on module)

---

Dimensions

Package size (HxWxD): 76 x 102 x 311mm
Packed weight: 360g

Last edited 19th May 2022

This product is used in teaching these Australian Curriculum codes:

ACSSU176 - Biological Sciences - Ecology - Ecosystems consist of communities of interdependent organisms and abiotic components of the environment; matter and energy flow through these systems

Click a curriculum code to see other products that relate.
&nbsp
Works with:
From
NO3-MOD - Vernier ISE Nitrate Replacement Module

$207.00

NO3-LST - Vernier ISE Nitrate Low Standard

$45.00

NO3-HST - Vernier ISE Nitrate High Standard

$45.00

&nbsp
Similar Products:
From
GDX-NO3-BNC - Vernier Go Direct Nitrate Ion-Selective Electrode BNC

$532.00

GDX-NH4-BNC - Vernier Go Direct Ammonium Ion-Selective Electrode BNC

$532.00

GDX-K-BNC - Vernier Go Direct Potassium Ion-Selective Electrode BNC

$525.00

GDX-CA-BNC - Vernier Go Direct Calcium Ion-Selective Electrode BNC

$525.00

GDX-CL-BNC - Vernier Go Direct Chloride Ion-Selective Electrode BNC

$525.00

NH4-BTA - Vernier Ammonium Ion-Selective Electrode

$597.00

CA-BTA - Vernier Calcium Ion-Selective Electrode

$597.00

CL-BTA - Vernier Chloride Ion-Selective Electrode

$597.00

K-BTA - Vernier Potassium Ion-Selective Electrode

$597.00

NH4-BNC - Vernier Ammonium Ion-Selective Electrode BNC

$550.00

CL-BNC - Vernier Chloride Ion-Selective Electrode BNC

$550.00

CA-BNC - Vernier Calcium Ion-Selective Electrode BNC

$550.00

K-BNC - Vernier Potassium Ion-Selective Electrode BNC

$550.00

NO3-BNC - Vernier Nitrate Ion-Selective Electrode BNC

$550.00
Note: Prices do NOT include GST or freight